After my 1976 Singer Touch and Sew super-cool Zig-zag+crazy other stitches-stitching model 750's gears rotted, resulting in the complete crumbling of the hook gear, I debated spending ~$80 in labor to have the $10 part replaced or sucking it up and purchasing a comparable modern machine. The question is, will I use the new machine enough to justify its cost?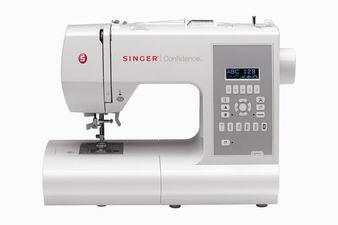 Now, 6 years ago, it would have been a no-brainer: I did a lot of sewing. I sewed no fewer than 10 formal dresses for random school dances/my step-sister's bridesmaids, and also a couple of faux-Faire costumes plus random other costumes/apparel items. (And let me tell you, while working on those bridesmaids dresses they seemed legion, not a mere 6) At the time, my sewing was split between an early-90s Bernina, a mid-70s Singer Touch and Sew (not the one above), and a late-90s Riccar.
But then, college intervened.
And continued for four years.
And then I got desperate my senior year, and bought a teeny-tiny little machine from Target so that I could sew up a corset for my society's annual Rocky-Horror party. Let me tell you, that $30 machine worked its little heart out over Ridgeline boning, multiple layers, and heavy brocade. I was impressed. When I graduated though, I took it home and gave it to my young nieces.
Then, about a year ago (right after graduation), in exchange for manual labor and organization, a friend allowed me to scavenge things she was giving to Goodwill for my new apt. Buried in her basement included the Touch and Sew tucked away in a nice sewing machine cabinet. And amazingly, despite sitting unused for years and needing a thorough cleaning, it worked! So, I had a sewing machine again.
But, I never could get it quite clean enough … and aside from a few curtains, it pretty much sat tucked away in its cabinet in our living room.
That is, until we decided to reupholster the couch (which was also scavenged from the aforementioned basement). I was super excited! We found some great fabric for $6/yd (and lots of it for our 8-foot long, fluffy couch). So, we started reupholstering. And then, that same night, as I went to sew the first few seams of pieces to staple onto the couch, my needle wouldn't go all the way down. It was striking metal down by the bobbin. I couldn't figure why. So, after some troubleshooting from the top, I took the bottom of the machine off, and out fell little pieces of gear. My heart broke.
But, ok, I start Googling and find tons of resources for vintage Singer parts and service instructions. I order the part. It comes. I realize, there's not a snowball's chance in hell that I can take the machine apart and get the gear in on my own.
And thus, my quandary. Quotes to fix it are around $80 labor. But, I'm scared that another gear will break. And then another (there are at least 4 big black plastic gears).
So I took a leap. I bought a Singer Confidence 7470 (on a very good sale), which is, as near as I can figure, the 2009 equivalent of my bicentennial-born darling (and perhaps a little better).
And, to motivate myself to use it, I'm going to share my projects. So, feel free to yell when I don't update for a while. In fact, I encourage it, please!
Perhaps someday I'll also pull out old pictures of the various things I've sewn. Including the crazy Pink-Fushia-Aqua-Orange Plaid "formal" gown my dear friend Rebekah wore to our senior prom.