I'm still working on quilting Carl's gift. I'm trying to work on denser quilting (when called for), but the tradeoff is that it is taking hours and hours to do, and my non-ergonomic space means my back can only take so much at a time. I think I hit the official 2⁄3 finished point last night. In the mean time, here is another quick project I made recently. This was another class at the Viking Gallery sometime in June, but I just finished hand-sewing down the binding last night.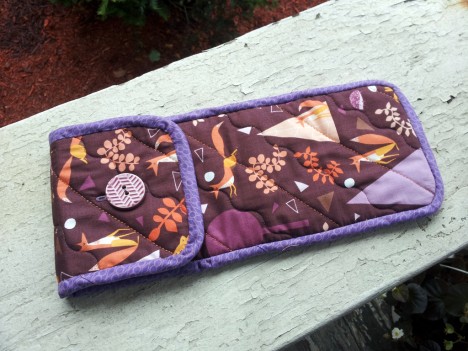 It is a case for a travel iron—be it for quilting/crafting or hair styling. The trick is that it has a layer of Insul-Bright so that you can put the hot iron in the pouch and go—no need to wait for it to cool down.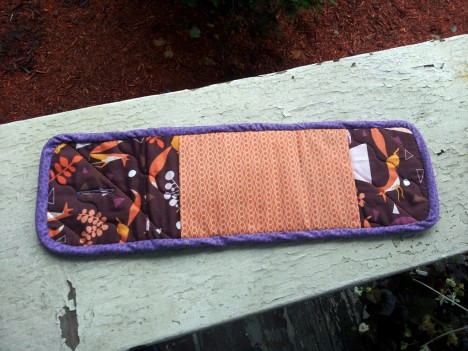 There's a pouch on the back to put the cord in, so that it won't melt. The pattern we used is very similar to this one on Sew4Home if you'd like to make your own.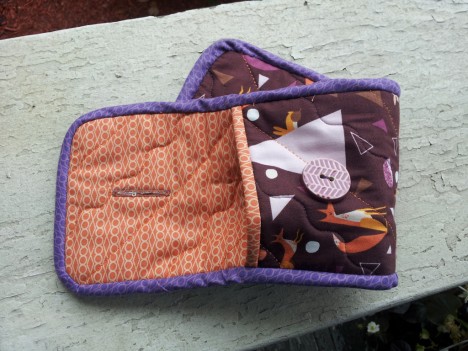 All the fabric was from stash, but I believe it's all designed by Lizzy House. The main print is Outfoxed, but the other two might be 1001 Peeps? I really like the button, which I happened to grab on clearance right before class. I don't have a collection of buttons to use for things like this, but I think I should really start one.
I have the fabrics for another one cut out, waiting for me to take the time to sew it up. I think they'll be Christmas presents. It's a decent stash buster—you can make it out of three or four fat quarters, depending on how you want to arrange colors and if you want a solid lining, or to piece scraps together for the areas that can't be seen.
---
A quick plug, just because I love these classes: I don't know if this is unique to my Viking Gallery (so ask at your own, or if you live in the Utica/New Hartford/Mohawk Valley area check it out inside JoAnn Fabrics), but they have a lot of low-cost classes for small projects like this. This and the travel wallet I posted last week were part of a monthly class they offer free to people who have bought a machine from them.
The real value, though, is that if you finish the previous month's class project and bring it to the following month's class, you get 25% off an item from their part of the store—that is awesome for things like new feet, embroidery hoops, or even rolls of stabilizers and such. I'm all about being a thrifty shopper, you know, so if I can combine a night out chatting with other crafters and making a quick project (they make great gifts), and get a discount on something out of the deal, well, I'm in paradise.