Near the end of every semester, I send finals week care packages to my younger sisters (which also happens to conveniently fall near their birthdays in the spring and autumn). While they mainly contain tea, chocolate, pens/markers, post-its, and something relaxing, I try to slip in something me-made every time as well (to varying degrees of success).
This semester, they moved into an apartment together, so I thought of the perfect gift: a set of kitchen towels with awesome embroideries that I found on Urban Threads. Useful, not so precious that they can't be used, and amusing.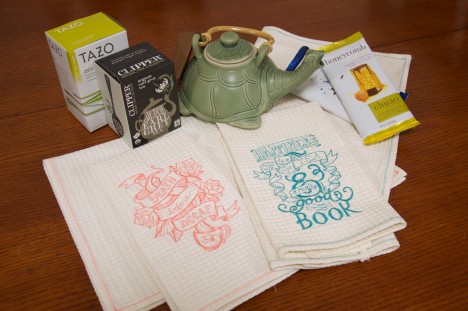 There is one embroidered towel and one plain one in each set, each measuring around 16″x21″. One of these days, I'll be making a set of my own from this one, which perfectly sums up my introverted down days: "Happiness is a cup of tea and a really good book."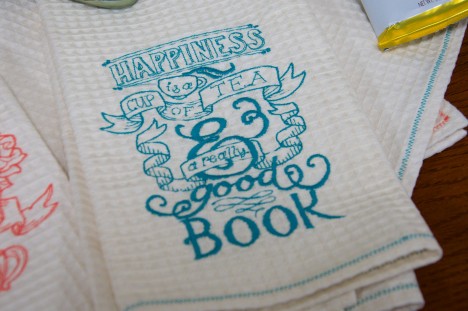 We've always ganged up a bit on the younger one, who claims she now reads, but didn't for many years, so she got a different design (which could double as a coffee cup, since that may be her caffeine-delivery vehicle of choice). It may also be fitting for me to hang at work, if you ask my coworkers about my state of mind at our scrum every morning: "Death before decaf."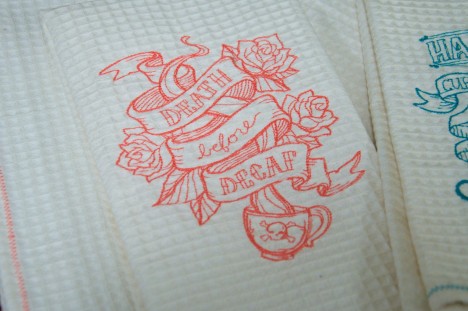 I made the four towels from a yard of textured cotton I found in the utility section of JoAnn Fabrics. While not explicitly labeled toweling, it's a great texture for a hand towel. I used cotton Gutermann thread to embroider them, matching the needle and bobbin threads. The 150m spools had just enough thread on them to get through the embroidery, then I switched the bobbin up to feed through the needle and put a cream bobbin to hem the edges. It made for an efficient use of a single spool that could have ended with a run to the store had anything gone wrong (I like to live a little dangerously some times).
Now, to start scheming about what to make for November's package…