The curriculum for one of the coding classes I teach used to have a meet and greet question that everyone would answer: "what's your favorite dinosaur"? Without fail, I'd forget to plan for it, and have to wrack my brain for one from Land Before Time or Jurassic Park (those movies being the extent of my familiarity with dinos). I've found my new favorite (a bit too late, c'est la vie): the inimitable Winosaur!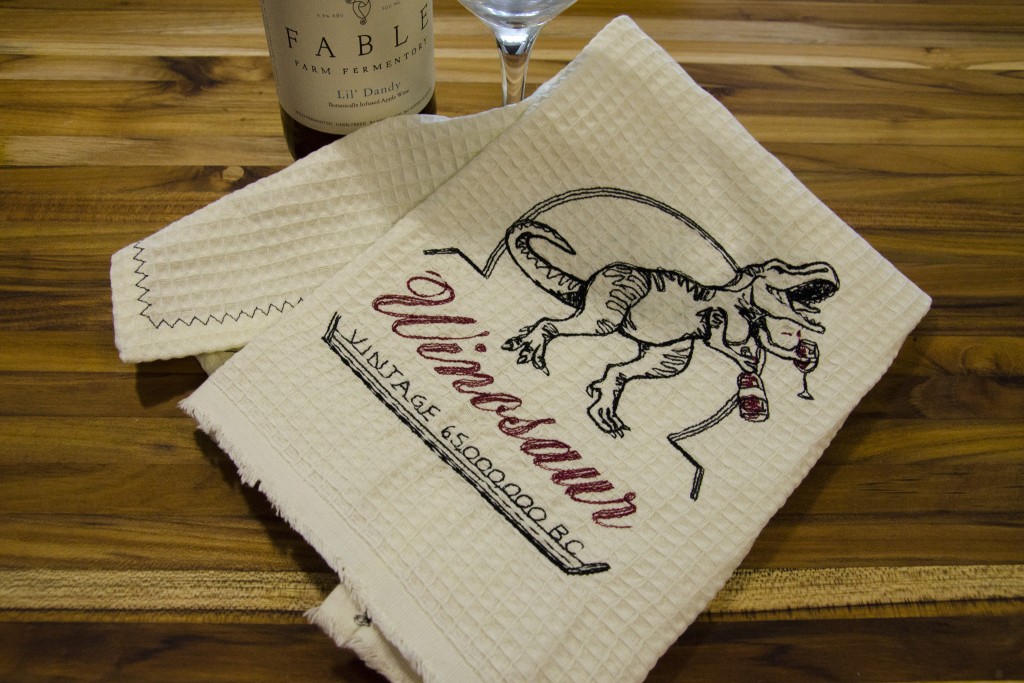 I picked this embroidery up from Urban Threads a while ago, when it was featured as a freebie. It was perfect for a set of tea towels (wine towels?) to give as a hostess/housewarming gift to friends who recently moved and threw a BBQ.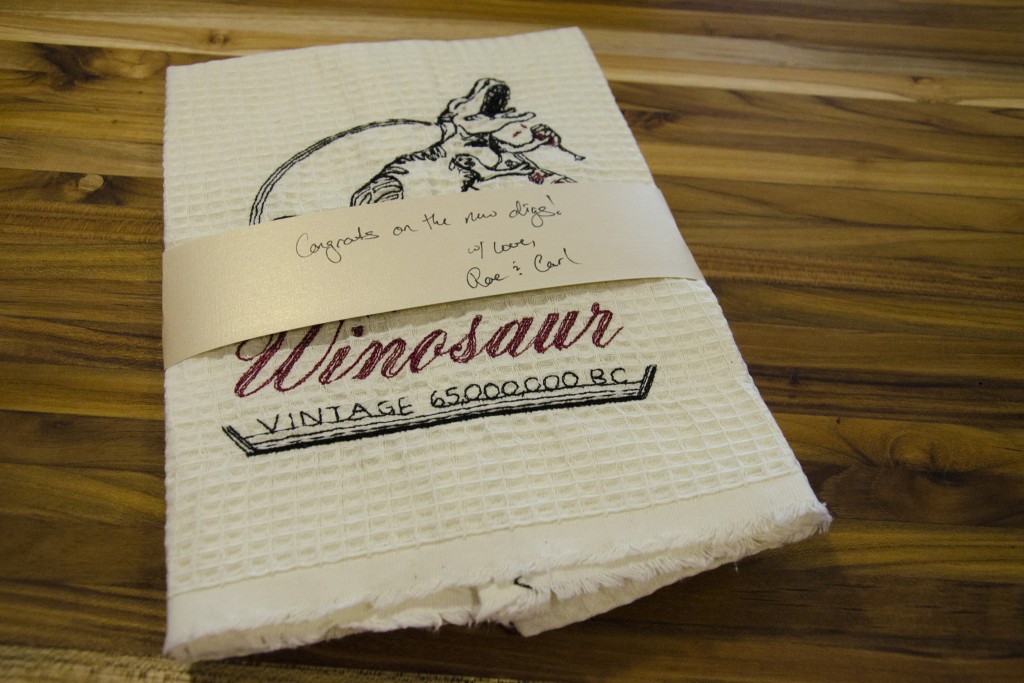 Rwaar. Glug glug.
Learn from my mistakes
I'm glad that I bought a full yard of the waffle weave fabric I used to make these towels out of, as my first attempt and a half at stitching out the embroidery went awry. Most of this is Machine Embroidery 101-level stuff, but I thought I'd share everything I learned. I tried to cut corners and it bit me, of course.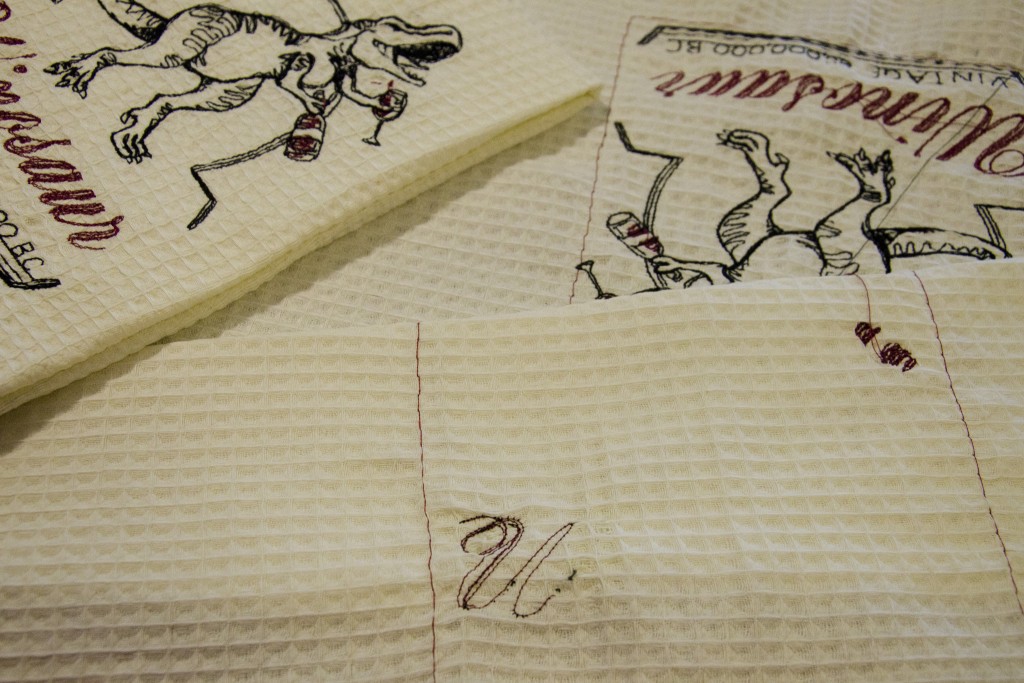 Use a fresh needle. An embroidery one. In the right size. No, that one you just finished using to quilt something is not okay.
Buy the right-sized stabilizer. Yes, you may have the right type stashed, but if it's sized for a smaller hoop, just go buy the right size.
Double (or triple) up your water-soluble stabilizer according to their directions, particularly with an unstable fabric and heavy line stitching.
Use spray baste to attach the stabilizer to your fabric.
Have your machine baste the design outline before stitching.
The Large Metal Hoop, while awesome, doesn't ship with enough magnets to secure unstable weaves. Steal more from your fridge (TMNT to the rescue! Cowabunga, dudes!).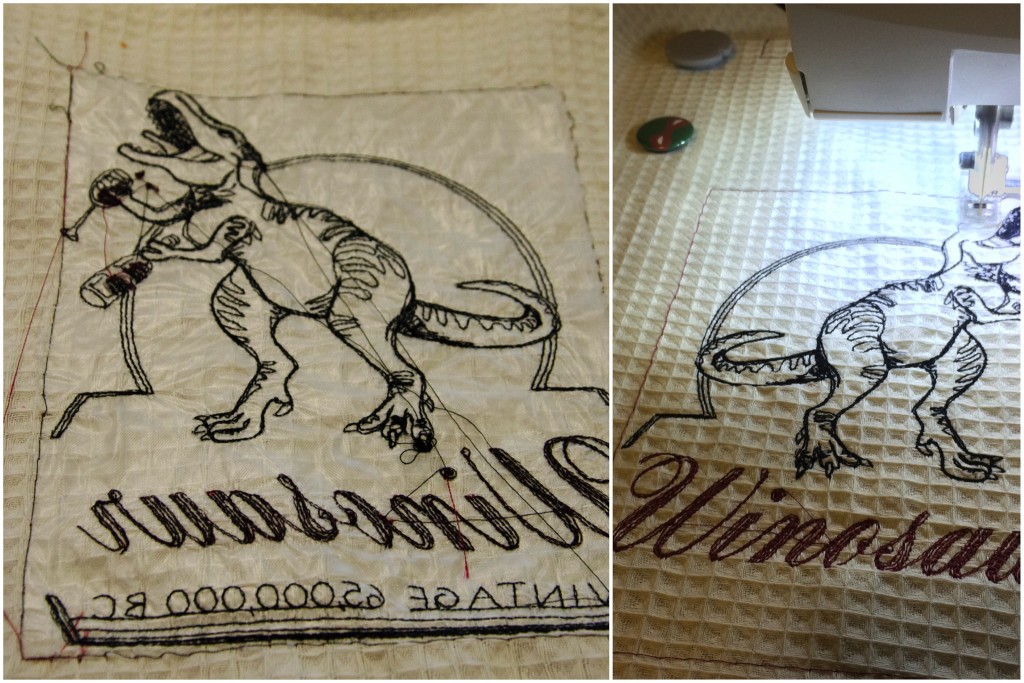 The towels
The towels themselves are simple. They're a fat quarter of waffle weave fabric, hemmed with mitered corners on one short edge, and the fringed selvage left bare for that towel-like look on the other. I used a contrast thread with a zigzag for aesthetics. I couldn't help making a spare set for myself in the name of 'testing' the final product! And by that, I mean I kept the awkward learning curve versions for myself.